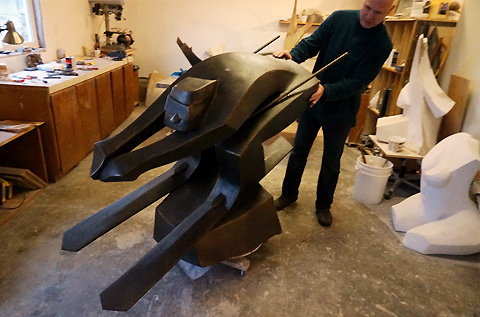 Pavel Barta was born in the Czech Republic.

He worked as graphic designer in a Publishing House in Prague. During that time he started to consider an "escape" from computer art and became interested in "hand made art". He used material such as wood, clay, paper, and metal to create miniature sculptures. His first exhibition took place in Prague in 1996. Each miniature sculpture is original and unique as he does not use molds or patterns.
He came to Canada in 1997. Here he became interested also in stone and bronze sculptures. In 2007 he started to work with another medium - fiberglass - to create large scale outdoor sculptures. His large scale sculptures could be seen in Campbell River, Kelowna, 108 Mile Ranch, 100 Mile House, Banf, Clinton, Heffley Creek and at Sun Peaks.

Pavel's sculptures are displayed in several galleries in British Columbia. His artwork found place in private collections across Canada, in Europe, USA, New Zealand, and Australia. He had one-man shows in Williams Lake, 100 Mile House, Hope, Coquitlam, and Kelowna. He was guest artist at Ars Longa art shows in Kelowna in 2007, 2008, and 2012. His sculpture design was chosen as The Okanagan Art Council Award for 2008. In 2010 and 2011 he participated in group shows in CityScape Community Art Space in North Vancouver. In 2012 Pavel finished two public art projects: Installation of 16 sculptures in the new foyer of Kelowna General Hospital, and also entrance signs for Village of Clinton. In June 2013 his art was displayed in the Seymour Art Gallery in North Vancouver. In April 2014 he received an Award of Excellence during the exhibition in Campbell River Art Gallery. Since May 2014 he lives and works in his studio in Campbell River at 262 Island Hwy.

"The best reward I can get is to know that thanks to my art someone's day became brighter."

Pavel Barta
Galleries that represent Pavel's work:
Press Release:
May 25, 2018 Campbell River Mirror
November 10, 2016 Campbell River Mirror
September 22, 2016 Campbell River Mirror
August 24, 2016 Victoria's Best Kept Secret - Shaw TV
August 8, 2014 Campbell River Mirror
June 3, 2014 Campbell River Mirror
June 1998 - 100 Mile House Pree Press
Suppliers:
Pyramid Bronze Works Ltd.

In Bronze